DRIVEWAYS | POOLS | RETAINING WALLS | ENTRANCES | CONCRETE SLABS | COMPLETE LANDSCAPING | NATURAL SLATE | FENCING | STONE MASONRY | LANDSCAPING DESIGN

Adid Landscaping provides unparalleled expertise and service in the design, installation and maintenance of your landscaping. Our breathtaking, well-designed, sustainable landscapes are attractive, functional and cost effective, enhancing your property.

Our experienced and trained team of professionals have been working together for years and will work quickly and unobtrusively to reach your goals. Communication is especially important to us, and all our landscape crews are eager to please and take direction.

Our suppliers include: Unilock, Best Way Stone, Permacon and Hansen.

Driveways - top

Adid Landscaping will help beautify your home and add to its value with a new decorative, interlocking concrete, cobblestone, or brick paver driveway. We will assist you with your design ideas and complete the project to your exact specifications. Interlocking concrete pavers are a smart and elegant design choice. They are manufactured to withstand weight and weather. They are laid in bedding sand just as flagstone, cobblestone, and brick, but they interlock to provide a perfect, stable fit. They come in a wide variety of colors, shapes, textures, and designs. Interlocking Concrete Pavers are easy to maintain and they provide an excellent drainage system for your driveway.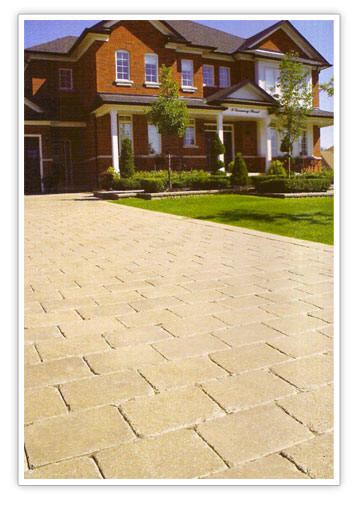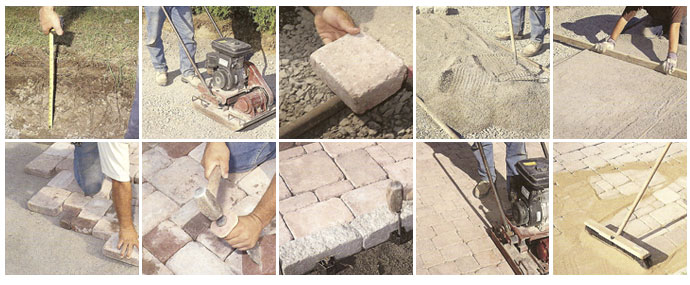 Pools - top

Once you have your pool installed, call us, and we'll help put on the stonework finishing touches to complete your backyard oasis. Ontario summers can be very hot and humid; having your very own pool is a great way to stay cool. We work with many pool installers and we know how excited you are to get into the water.
Call us to book your free consultation and estimate to complete your pool today!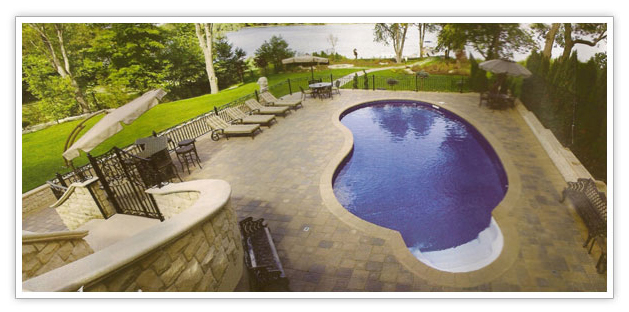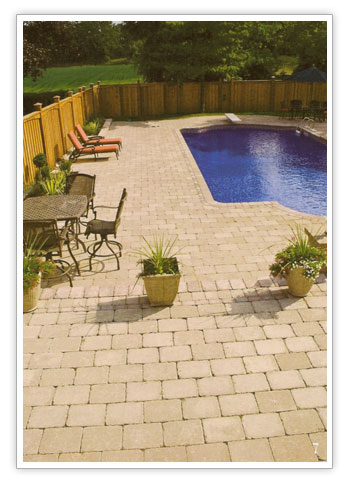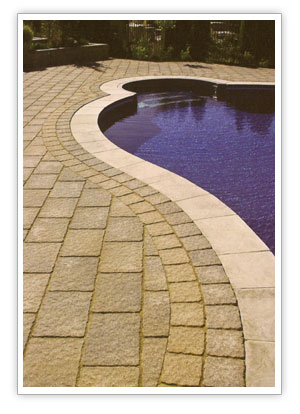 Retaining Walls – Stone, Wood and Concrete - top

Retaining walls can add beauty as well as functionality to any landscaping or garden project. Use them to create raised flowerbeds, hide foundations, or terraced sloped landscapes. How to build a retaining wall depends on the type of retaining wall system you choose. During home retaining wall construction, you must choose between the different types of retaining wall construction methods. The most popular choice for retaining wall construction is concrete. Some retaining wall construction types are:

• A concrete retaining wall
• An interlocking block retaining wall
• A Wood retaining wall
• An Insulated Concrete Form retaining wall or ICF retaining wall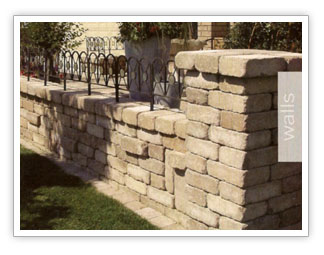 Entrances, Porches, Steps, Paths, Sidewalks & Patios - top

A front entrance sets the tone of your home. An attractive, welcoming entrance does more to greet friends and family than any other element of your home's exterior. Your entrance is much more than just your front door. Your walkways, your landscaping, your lighting and your front porch are all part of that first entry impression.
If you are looking for a solution to an unsightly area or a practical idea how to handle getting from your front to back yard then you have come to the right place. We specialize in solving these problems with an attractive walkway in any number of materials. We can also provide you with design concepts on how to change your backyard to a patio or entertainment area, which is a wonderful transition from your indoor living space to your outdoor living space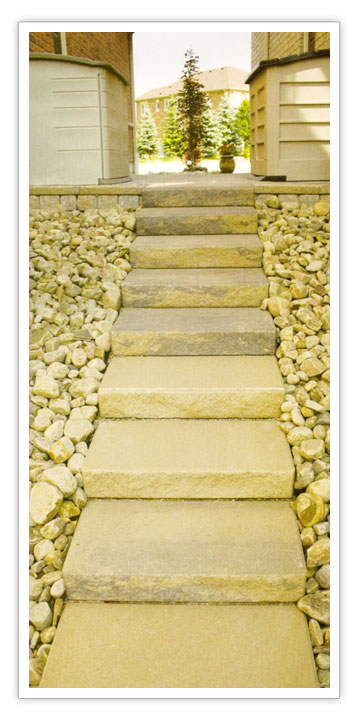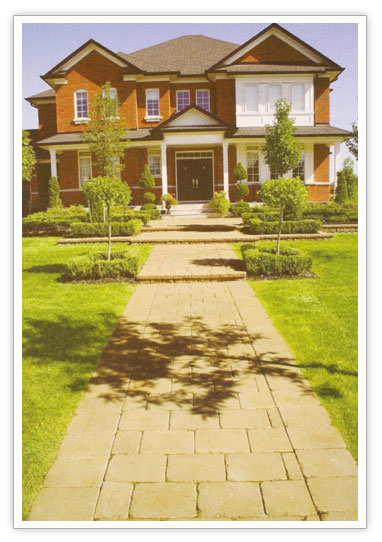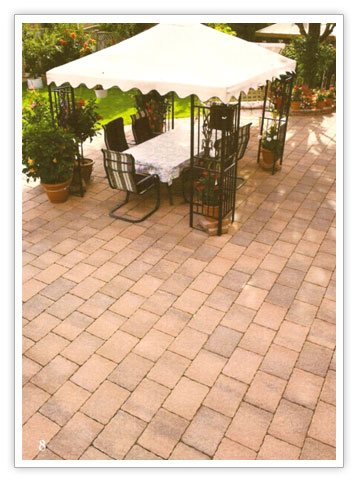 Concrete Slabs - top

Slabs create beautiful patios and walkways. They add value to your home. These attractive, easy to care for and durable slabs are a great choice for ease of installation and effortless beauty. They offer superior consistency, size accuracy, strength, flatness and detail. The traditional pattern, complete uniformity and superior quality of make slabs a popular choice for patios and walkways.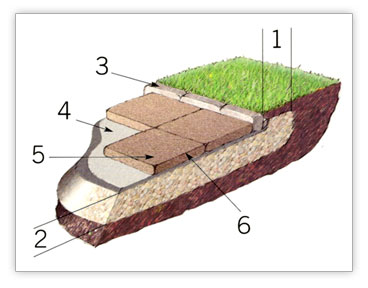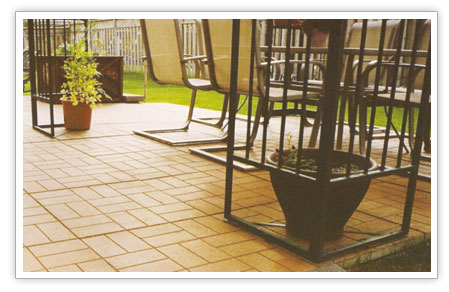 Complete Landscaping – Grading, Sodding and Planting - top
If you are looking to make your lawn healthy and beautiful year-round you have come to the right place. We use freshly harvested high quality sod. Sodding is the fastest way to start a new lawn, sod can be installed almost any time and will be ready to be enjoyed in as little as 3 weeks.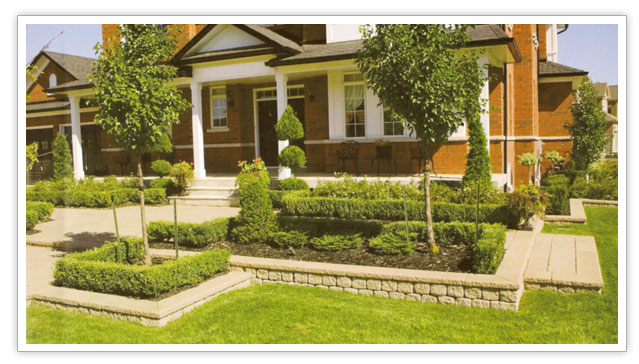 Natural Slates & Flagstone – Rectangular and Random - top

There is nothing more elegant, appealing and durable than natural stone in the world of landscaping and
design. The breathtaking and everlasting beauty of natural stone monuments and projects completed centuries ago indicate just how incredible natural stone can be. Natural stone has a uniqueness and quality that no other building material can match.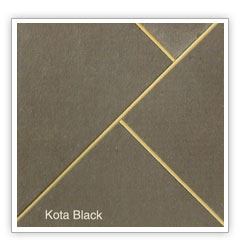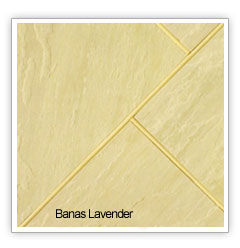 Fencing – A full line (wood) - top

Fences come in a wide range of styles. Whether it is designed for privacy, safety and security or to accentuate your property our fences will work and look great. Adid Landscaping is an ideal choice for installing your fencing system.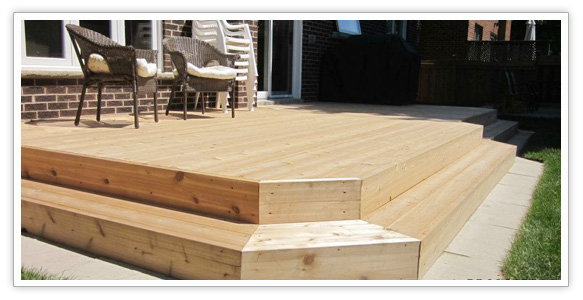 Stone Masonry - top

Stone is well suited for both interior and exterior uses including; fireplaces, residential and commercial properties. There are many different types of natural and overlay stone from which to choose.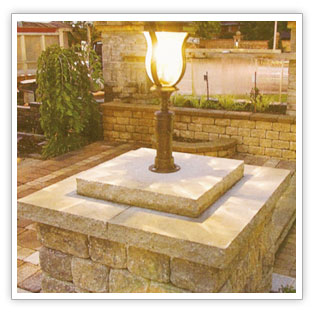 Landscape Design & Build - top

Landscape Design and Build is our process of creating ideas with the
homeowner, providing advice on environmentally sound design choices and creating a plan to match your particular needs and interests.